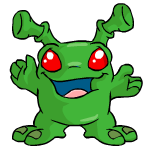 If I were a Neopet... I'd be a
Grundo
!
After centuries of imprisonment by the evil Dr. Sloth, who transformed them into hideous servants, the Grundos have returned to Neopia.
Grundos are naturally friendly, and try sometimes too hard to be cool.
They will eat almost anything.
Which Neopet are you? Click here to find out!
To be perfectly honest, I'm not quite sure what a Neopet is. But I followed the link on this site, and here I am. A Grundo.